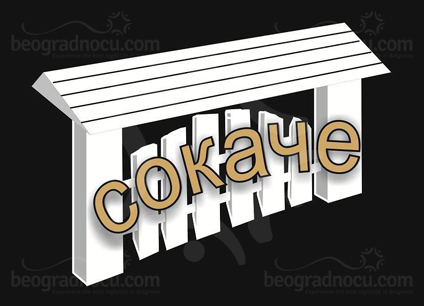 Vodovodska 158
Beograd, Čukarica

23:00h - 03:00h

Pop / Folk

250 Ljudi
Interior
Beograd Noću
Tavern Sokače is located at No 158 Vodovodska Street in Žarkovo and represents real bohemian place that exudes spirit of old Belgrade. Tavern Sokače offers unique entertainment and really amazing music program, so different types of people can enjoy here. In tavern Sokače you can enjoy in traditional music, wired musicians and quality folk music and everything guests want to hear.
What is emphasized in tavern Sokače is extreme kindness and respect toward guests as well as very affordable prices. All this makes people always return in this tavern. Here you can always expect smiled staff ready to serve you, friendly waiters, most beautiful girls lowest prices and unforgettable fun. Tavern Sokače is ideal place for if you want to celebrate, grieve, if you are happy or sad. Tavern Sokače is an ideal place if you need a friend, a drink - in one word perfect place for every occasion and opportunity.
Interior of tavern Sokače is specific and subordinated to your maximum pleasure. Walls are in brick and stone and tables have plaid sheets. Tavern Sokače has mostly tavern tables, but there are also bar tables for those who prefer a standing position. In tavern Sokače there is no bad place to be, so wherever you are, you are always in center of attention. Of course, if you secure your place at time, since it's very popular. Reservations are mandatory, as they say in this tavern - they wouldn't want to leave anyone outside, on this winter. Reservations in tavern Sokače are valid until 10:30 pm, and tavern is opened until 3 am. Tavern Sokače accommodates 220 people and there is a large parking available for guests. One sure thig is that you will leave tavern Sokače in excellent mood with great desire to come here again.
Tavern Sokače
Average rating:
0 reviews
---
Reservations are mandatory.
You can make a free reservation using our call center or the online form.
Galleries - Tavern Sokače