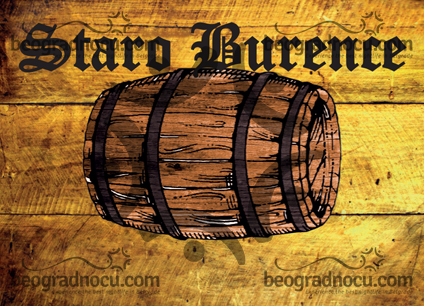 Strma 2
Beograd, Zemun

22:00h - 04:00h

Starogradska

70 Ljudi
Beograd Noću
Tavern Staro Burence is located at No 2 Strma Street, precisely at Gardoš (Zemun). For many years tavern Staro Burence represent  leading place when it comes to taverns and has good reputation. Besides long bohemian tradition popularity of tavern Staro Burence contribute impeccable service, pleasant and friendly staff, cozy and pleasant comfort as well as great music. Music program is mostly traditional music and quality folk sounds.
Tavern Staro Burence is opened three days a week, pricesely on Thursday, Friday and Saturday when it presents place for unforgettable night out. This place is real choice for all lovers of  bohemian song and atmosphere. Interior is maximally subordinated to your maximum pleasure, so there is no bad place, wherever you are you will be in center of attention. Here you can sit on benches that are arranged along whole tavern and around tables. But here no one is sitting! Tavern also has counters and spacious bar. Inerior is mostly wood, brick and stone, as well as neutral colors that are contributing to your maximum relaxation. Tavern Staro Burence has wide selection of drinks, foreign and domestic. Guests can also enjoy in delicious snacks.
Tavern Staro Burence is opened until 4 am in the morning and accommodates 70 people. Besides all conveniences tavern Staro Burence has to offer it is also available for organizing family and business celebrations. You can rent tavern Staro Burence for your birthday parties and celebrations at your choice. For this type of arrangement tavern Staro Burence is available from Sunday to Thursday and what is important has very affordable prices. If you would like to rent this tavern and have party for max 35 persons, price is 10 euro by person. Within this offer you have unlimited drinks and music by your choice. Tavern Staro Burence provides you amazing and unique entertainment in Zemun. Do not miss to be part of history of tavern Staro Burence.
Tavern Staro Burence
Average rating:
1 reviews
---
Reservations are mandatory.
You can make a free reservation using our call center or the online form.
Mapa - Tavern Staro Burence