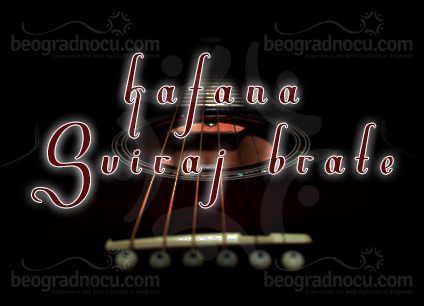 Obrenovački drum 17 (Makiška side of Ada)
Beograd, Čukarica

22:00h - 03:00h

Pop / Folk / Traditional music

150 People
Beograd Noću
Tavern Sviraj Brate is recently opened tavern located at No 17 Obrenovački drum Street, at let side of Ada lake, across all locals on Ada.
Tavern Sviraj Brate offers to its guests unique bohemian atmosphere which makes it very specific tavern. Tavern Sviraj Brate is just the right place if you want to spend casual time with your loved one, friends, or if you want to celebrate something special. Here you can dance and have amazing time.
Music program of tavern Sviraj Brate is mostly pop, folk and traditional music, but undoubtedly you can hear everything guests may enjoy. In tavern Sviraj Brate you can hear live band performances that are great professionals and make amazing atmosphere  with lot of love. Music program is carefully selected so even the choosy one are having great time here.
Tavern Sviraj Brate is very spacious and you have enough space to dance all night long with your friends, even on chairs and tables. Tavern Sviraj Brate accommodates 150 people and good mood is always required.
Interior of tavern Sviraj Brate is decorated in true bohemian style, with plaid sheets, curtains, wooden chairs and tables and energy is definitely focused on guests and good time.
And of course, in tavern Sviraj Brate service is on high level and prices are more than fair. In tavern Sviraj Brate you will not have to worry about your wallet , because prices are adjusted to everyone. People that gathers in tavern Sviraj Brate are trues hedonists and in this tavern positive energy inevitable. Large selection of alcoholic and nonalcoholic drinks will inspire you that tavern Sviraj Brate always be your choice.
Tavern Sviraj Brate has large parking space so you don't have to worry about your vehicle when you come here.  For now, tavern Sviraj Brate is opened on Wednesday, Friday and Saturday, but management of tavern is planing to open some other day in a week for your pleasure. One sure thing is that great fun is guaranteed, you only have to come.
Tavern Sviraj Brate
Average rating:
0 reviews
---
Reservations are mandatory.
You can make a free reservation using our call center or the online form.
Mapa - Tavern Sviraj Brate