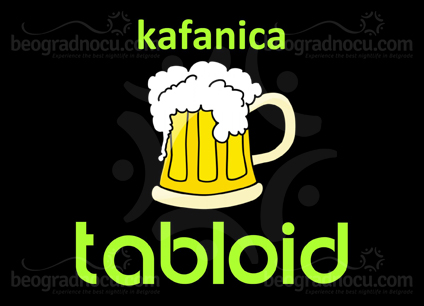 Vukasovićeva 21b

21:00h - 02:00h

Pop / Folk

150 People
Beograd Noću
Tavern Tabloid is located in Vukosavićeva Street No 21b, at Kanarevo Brdo, in quiet and nice area. Tavern Tabloid is true bohemian place with special charm where all people can enjoy. Here you can enjoy in great live performances of remarkable bands and numerous singers that will make great atmosphere. Basically, everything guests want to hear and amazing pop and folk music.
Special thing about tavern Tabloid is polite and professional staff always ready to meet with your demands. Prices are also very affordable. Once you enter in this tavern you will always want to come back. Staff of tavern Tabloid will wait for you and escort you to your seats, so you don't have to doubt in politeness of  tavern's staff.
Even though there is a million reasons to visit this tavern, we will tell you only the important ones. Only most beautiful girls come here and time spend here is memorable. Besides low prices, adjusted to everyone's pocket there is wide selection of drinks.
When you are happy, or sad, or maybe lonely or with someone tavern Tabloid is just the right place for you. An there is always reason to make a toast. So make a toast in best company, in best place for only best things - only in tavern Tabloid. Tavern Tabloid is just a perfect choice for every occasion and situation.
As far as for interior it's very unique and adjusted to coziness of guests. Interior is relaxed and has spirit of old days. Architectural design of tavern Tabloid is perfect,  so there is no bad location for you.
So you better make your reservation on time in tavern Tabloid. This tavern accommodates 150 people. One sure thing is that you will leave tavern Tabloid much happier. Working hours of tavern Tabloid are from 9 pm to 2 am on Thursday, Friday and Saturday.
If you don't have a car, bus lines  47, 48, 50, 54, 59 and 94 will take you to your favorite tavern. Come to enjoy in good music, pleasant ambient and great company. We are waiting for you!
Tavern Tabloid
Average rating:
0 reviews
---
Reservations are mandatory.
You can make a free reservation using our call center or the online form.