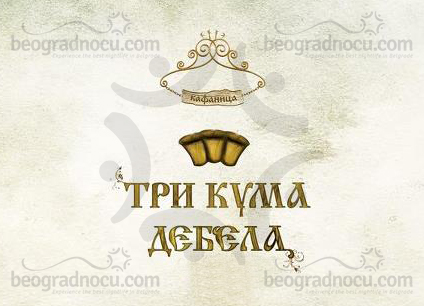 Sinđelićeva 7
Beograd, Zemun

22:00h - 04:00h

Pop / Rock / Starogradska

70 Ljudi
Interior
Beograd Noću
Tavern Tri Kuma Debela is located in a heart of beautiful Gardoš in Zemun at No 7 Sinđelićeva Street.
Tavern Tri Kuma Debela represents true bohemian place that exudes beauty and energy of old Belgrade. All lovers of ethno sound and song will find its corner in tavern Tri Kuma Debela. Interior of tavern Tri Kuma Debela is very carefully decorated, so one part of tavern is in bricks, while the other has old fashion wallpapers and tapestries. Tavern Tri Kuma Debela has bar tables and tavern tables. even though it looks very intimate, tavern is spacious and has many room for dancing.
In tavern Tri Kuma Debela you can be maximally relaxed and have fun from Thursday until Wednesday. On Thursday tavern is opened until 3 am, while on other days it's opened until 4 am. Depending on what day you choose for entertainment, you can here different music program, like acoustic pop and rock sounds, traditional and  folk music. Sure thing is that tavern Tri Kuma Debela is various and with its impeccable so you can feel extremely special.
What makes this tavern different from other taverns in Belgrade is fact that waiters in tavern Tri Kuma Debela are extremely polite, ready to serve you, to talk to you and make you laugh. In tavern Tri Kuma Debela guests always come first as well as their enjoyment and pleasure. This tavern accommodates 60 people. If you are in mood for singing, dancing, drinking and relaxation tavern Tri Kuma Debela is just the right choice for you. Guests are always in a great mood, musicians are promising great atmosphere as well as wide selection of drinks and food.
Tavern Tri Kuma Debela
Average rating:
0 reviews
---
Reservations are mandatory.
You can make a free reservation using our call center or the online form.
Galleries - Tavern Tri Kuma Debela
Mapa - Tavern Tri Kuma Debela