Tavern Triada (Medaković)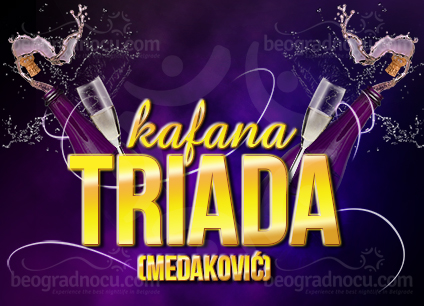 Mokroluška 174

22:00h - 05:00h

Folk / Gypsy music

120 People
Beograd Noću
Tavern Triada is located at No 174 Mokroluška  Street and this one beautiful place for all lovers of gypsy music. Tavern Triada will be open from Wednesday to Sunday and will provide its guests best possible entertainment relaying on principles of song, dance and enjoyment.  Gypsy music has special emotion and carries it with special attractive temperament in which all guests of tavern Triada will be able to enjoy. Tavern Triada accommodates 120 people from 10 pm to 5 am and here you could hear great folk music, so for anyone's taste there will be a song. Tavern Triada also flirts with all its guests on very high level. This is a place from which you will never want to leave, because party at this place is winning combination for all your senses and you will not sit down whole evening.
Tavern Triada is one beautifully decorated place where all lovers of good music can find quality party. This is tavern that nurtures its guests and their desires are imperative for management of this tavern. Level of service and quality of music repertoire can never fail in tavern Triada. Tavern Triada is founded to listen to all your fantasies about bohemian lifestyle. At this place you can experience true meaning of tavern trough beautiful and emotional gypsy songs and revive all bohemian destinies that will make you stay here even better.
Tavern Triada has interior that will please all your senses and perfectly with bohemian atmosphere which is very attractive in tavern Triada. Musicians who are in charge for your good mood precisely know how to gain you. Because of their music you will not want to leave tavern Triada and when you do, you will leave it with slime on your face, because at this place best party is inevitable.
Tavern Triada (Medaković)
Average rating:
0 reviews
---
Reservations are mandatory.
You can make a free reservation using our call center or the online form.
Mapa - Tavern Triada (Medaković)