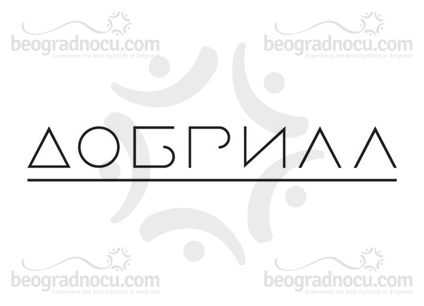 Dobračina 30
Beograd, Stari grad

08:00h - 01:00h (vikendom do 02:00h)

Pop / Rock

150 Ljudi
Beograd Noću
Club Dobrila is located at very popular location, at Dobračina Street No 30. This is fifth season in a row when club Dobrila maintains standards of best club party in Belgrade, great atmosphere and very pleasant and modern ambient. Energy in club Dobrila is extremely positive and unique.
Club Dobrila is opened on Thursday, Friday and Saturday from 10 pm until 4 am and has best live bend performances in Belgrade. Popular Dobrila represents spectacular bar-club with enriched wine card and wide selection of alcoholic drinks. Cocktails are specialties of bartenders, such as Suspicious mind i Wild Dobrila and many other.
Also, in club Dobrila prices are very fair and affordable and staff is always ready to serve you. Club Dobrila accommodates 200 people and average age is 25+. Elegante or semi-elegant wardrobe is desirable in club Dobrila.
In club Dobrila three days a week you can enjoy in live performances of very popular bends.  Music quality is very important in club Dobrila, so true lovers of quality club music will enjoy in here. Bends that are performing here are true professionals, that are satisfying high club standards. In club Dobrila you will be able to hear bands such as: Balkan Ekspress Band, Showtime Band, Soul Touch Band, as well as very popular band Girls, Boys and Toys. Music genre is mostly pop and rock. Here you can experience top entertainment, that symbolises elegance and relaxation. Just the right place for enjoyment with your people is club Dobrila.
Club Dobrila
Average rating:
0 reviews
---
Reservations are mandatory.
You can make a free reservation using our call center or the online form.