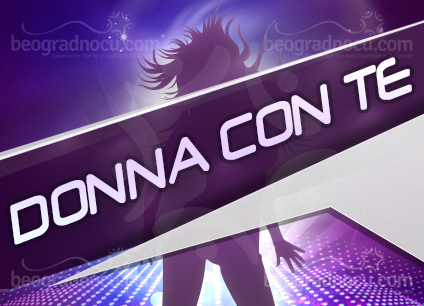 Bulevar Vojvode Mišića 33d

10:00h - 03:00h

Pop / Folk

100 People
Beograd Noću
Club Donna Con Te is located at 33a Bulevar Vojvode Mišića and it's really a place you would like to stop by. In this beautiful club you can enjoy from Tuesday until Friday. Club Donna Con Te accommodates around 100 people that will find ideal moments with pop and folk music in pleasant ambient.  This cozy and pleasantly lighted club  is opened from 10 am until 3 am. Besides night entertainment, here you can enjoy in morning hours, have a cup of coffee with your friends in pleasant atmosphere club Donna Con Te, which slowly becoming your daily routine. Colors and design of the club a beautiful sight for your eyes and adjusted for every taste. Everything is made just by taste, so you can experience club Donna Con Te as most beautiful club.
Club Donna Con Te is excellent choice when you wanna surprise your better half or when you just wanna have fun with your best friends and have unforgettable night out. For all significant dates club Donna Con Te is impeccable choice. Interior of the club is designed so you are always in center of attention, where ever you are. If you are looking for a place where you can dance all night long and have an amazing time with your dear people, club Donna Con Te is right choice for you. But, that's not all, club Donna Con Te will always has new things and surprises for dear guests. Pleasant and impeccable staff is will always be there for you.
Club Donna Con Te can not be compared with any other club because its unique in any sense and where you will definitely be delighted about prices.
Club Donna Con Te
Average rating:
0 reviews
---
Reservations are mandatory.
You can make a free reservation using our call center or the online form.