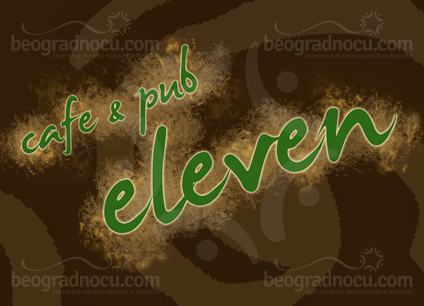 Studentski Trg 11
Beograd, Stari grad

09:00h - 03:00h

Pop / Rock / Disco / Funk

150 Ljudi
Interior
Beograd Noću
Club Pub Eleven is located in downtown, across Ethnographic Museum, next to Belgrade Philharmonic. This club is named after its location, precisely after the name of the Street - Studenstki Trg 11.
Club Pub Eleven, is definitely keeping up with dynamic rhythm of the city. Atmosphere is casual and ideal for cup of coffee with your friends or afternoon beer.
Cuisine is quite nice, and kitchen is opened until 10 pm, so you will have an opportunity to enjoy in great meal, that will be served in short notice.
Pub cheeseburger or chicken with grilled vegetables will be at your table in only few minutes. Until 12 am, you can eat breakfast, a sandwich or an omelet, and during whole day, you can eat salads -  Caesar, Caprese, Greek salad, Nice and many others... Also there is chicken prepared in various ways and pork filet. If you are not hungry and you would like a snack, you can have cheeps with tree kind of salsa (cheese, olives and chili). This is favorite meal in Pub Eleven. Deserts in Pub Eleven are homemade baklava and chestnut puree.
Interior of Pub Eleven is classical pub's interior. Special charm of this place are decorative wallpapers with floral motives in cyclamen and apricot colors. Classic wooden chairs and tables goes perfect with green flooring and modern bar, just like in real pubs.  Chandeliers are med of wright iron are very special detail, as well as red booths.
Drink menu in club Pub Eleven is various. There are numerous whisky brands, different flavors of rakija, as well as beers from domestic and foreign beers (light and dark as well). Vines are from Chile, Argentine, Italy, Montenegro...
Club Pub Eleven is most interesting in the evening, when atmosphere is relaxed with a lot of positive people. Every Thursday, Friday and Saturday, there is a party and starts at 10 pm until 3 am. Every Thursday, Dj is playing music in club Pub Eleven, while on Fridays and Saturdays, there are live band performances. Music genre in this club is pop, rock, disco, soul and funk.
Club Pub Eleven
Average rating:
1 reviews
Sep 8, 2021
super mesto za studente 🙂
---
Reservations are mandatory.
You can make a free reservation using our call center or the online form.